TUNDRA
CREWMAX OVERVIEW:
If there are certain things that Toyota is best known for, it  would definitely be its reputation for providing quality vehicles and having a  high resale value for these cars. Given its number of years in providing  quality vehicles, there's no wonder why the Toyota Tundra CrewMax is  among the top choices. With the addition of the new 1794 edition, there's sure  bound to be heads that will turn for the truck. If you're interested in the  CrewMax you can visit Toyota of Boerne to test drive one.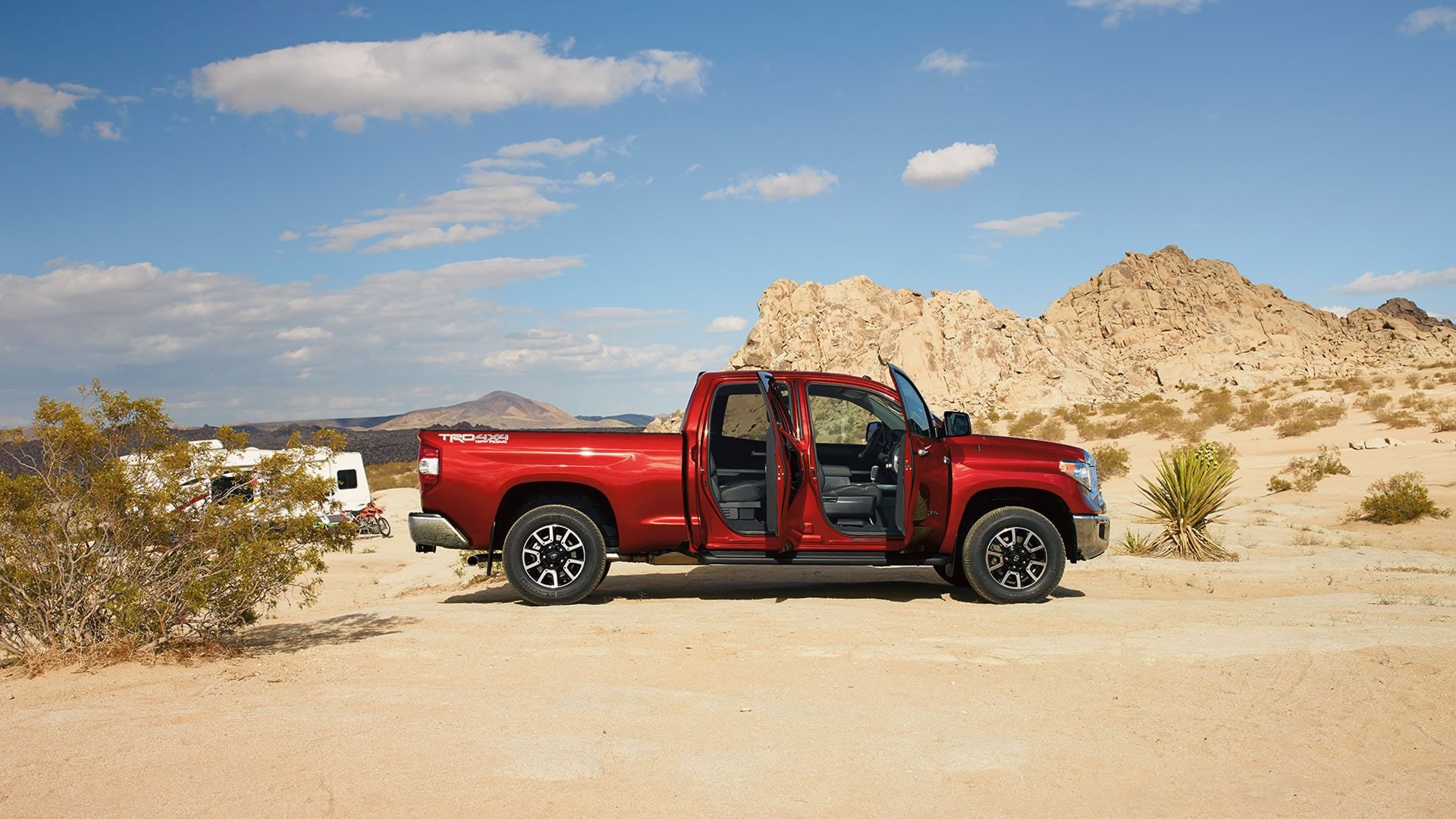 CREWMAX PERFORMANCE AND MPG
There are three engine sizes available on the 2014 Toyota Tundra,  which are then paired with either a Rear-Wheel or Four-Wheel Drive. By having these  options, the truck is able to meet the needs of every individual in the market  for a hard working truck.  
The first engine available on base trim levels is a 4.0-liter V6  capable of 270 horsepower and 278 lb-ft of torque paired with a standard five-speed  automatic transmission. The EPA estimate for fuel economy for this engine has  been rated at 16/20 mpg city/highway*.
Another engine available is the 4.6-liter V8, capable of  generating 310 horsepower and 327 lb-ft of torque paired with a six-speed automatic  transmission. The EPA estimate for this engine is at 15/19 mpg city/highway  (2WD) and 14/18 mpg city/highway*(4WD).
Lastly, a powerful 5.7-liter V8 is available on top trims; helping  it produce 381 horsepower and 401 lb-ft of torque with a six-speed automatic  transmission. The EPA estimate for fuel economy of the engine is rated at 13/18  mpg city/highway (RWD) and 13/17 mpg* (4WD).
When properly equipped, the Tundra is capable of a maximum towing  capacity of up to 10,400 pounds with the 5.7-liter V8 engine's tow package.
* Based on 2013 EPA  mileage ratings. Use for comparison purposes only. Your actual mileage will  vary depending on how you drive and maintain your vehicle.
CREWMAX SAFETY:
Considering that its previous year model earned a Top Safety Pick  title from the IIHS, it won't be long before the 2014 Toyota Tundra will  receive the same recognition. At the same time, it rated a four-star rating  from the crash tests it underwent with the NHTSA. With such outstanding marks  for its safety, the Toyota Tundra CrewMax proves that it is well-built for a  truck of its kind.
Standard safety equipment on board the Tundra CrewMax include the  usual eight airbags, anti-lock brakes, vehicle stability control, traction  control, electronic brake-force distribution, Smart Stop brake-override  technology, and brake assist.
Exclusive for the Platinum and 1794 Edition is LED daytime running  lights. New for this year model and for full-size pickup trucks, the Tundra  adds in a Blind Spot Monitor with Cross Traffic Alert. This feature is included  as a standard on Limited CrewMax, Platinum, and 1794 Edition trim models.
CREWMAX DEALER INFORMATION
There's plenty of reasons why you should check out the Toyota Tundra CrewMax at a car dealer nearest you. But if you're  looking for a car dealer that will provide you the best customer service and  experience, Toyota of Boerne is  one place you will never regret going. Call us today to schedule your visit!